A Patient-Centered Approach to Concussion Care: CME & Webinar
A special program for emergency medicine and primary care physicians, as well as neurologists, physiatrists, and other healthcare professionals
In this webinar, Elizabeth Sandel, MD, a physiatrist and brain injury medicine physician, and Conor Gormally, co-founder of Concussion Alliance — a young man who has experienced several concussions — present a patient-centered care approach for emergency medicine and primary care physicians. Their recommendations are for expert, collaborative, and coordinated care that is accessible for patients in the acute phase after a concussion, and in the rehabilitation phase, if symptoms are persistent and chronic. They share many specific recommendations and provider and patient resources.
The program also features content and illustrations from Dr. Sandel's book, Shaken Brain: The Science, Care, and Treatment of Concussion (Harvard University Press, 2020).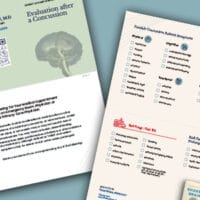 To properly diagnose a concussion and devise a treatment plan requires a thorough physician evaluation, a symptom checklist or an interview, or both, followed by a comprehensive cognitive and physical examination. Download a pocket guide that helps patients prepare for being evaluated.
Concussion clinics vary in terms of protocols and personnel. Neuropsychologist Richard Delmonico discusses one model in the Kaiser Permanente health system.
Get updates on the latest in concussion, brain health, and science-related tools from Dr. Elizabeth Sandel, M.D.
By clicking SIGN UP, you agree to receive emails from Dr. Sandel and agree to our terms of use and privacy policy.