The Eyes are Key to Concussion Diagnosis and Treatment
Dr. Jacqueline Theis is a neuro-optometrist who specializes in the evaluation and management of athletes and other people who have experienced one or more concussions. She also speaks from her own experience of having had concussions playing soccer, and having difficulty finding experts.
Clinicians like me say that concussion requires a clinical diagnosis based on the history of what happened to produce the symptoms. However, because these same symptoms appear in other conditions, and we don't have reliable biomarkers, diagnosing a concussion can sometimes be a challenge. The lingering effects of a mild brain injury can also continue as a chronic condition, often referred to as post-concussion syndrome or persistent post-concussion symptoms, that still require treatment.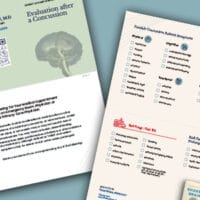 To properly diagnose a concussion and devise a treatment plan requires a thorough physician evaluation, a symptom checklist or an interview, or both, followed by a comprehensive cognitive and physical examination. Download a pocket guide that helps patients prepare for being evaluated.
Finding a physician specializing in brain injury medicine can be difficult because the field is relatively new, but there are resources to help.
Get updates on the latest in concussion, brain health, and science-related tools from Dr. Elizabeth Sandel, M.D.
By clicking SIGN UP, you agree to receive emails from Dr. Sandel and agree to our terms of use and privacy policy.