Brain Injury Diagnosis & Treatment
How are traumatic brain injuries diagnosed, and what treatment is recommended for concussions and other brain injuries?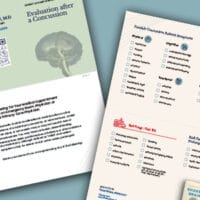 To properly diagnose a concussion and devise a treatment plan requires a thorough physician evaluation, a symptom checklist or an interview, or both, followed by a comprehensive cognitive and physical examination. Download a pocket guide that helps patients prepare for being evaluated.
Get updates on the latest in concussion, brain health, and science-related tools from Dr. Elizabeth Sandel, M.D.
By clicking SIGN UP, you agree to receive emails from Dr. Sandel and agree to our terms of use and privacy policy.