Brain Injury Diagnosis & Treatment
How are traumatic brain injuries diagnosed, and what treatment is recommended for concussions and other brain injuries?
We do not yet have a clear understanding of what happens in the brain immediately after a concussion and over the days and months that follow, especially for those patients whose symptoms persist. Post-concussion symptom rates vary greatly among research studies, likely because the populations studied are diverse and so are the diagnostic criteria and timing of assessments. The wide variation in symptom rates highlights the fact that there is a lot we still don't know about concussions.
Traumatic brain injury (TBI) is a leading cause of death and disability among seniors. The cause is often a fall or a motor vehicle accident, but head trauma due to elder abuse or neglect must always be considered, too. Older adults usually have other health conditions and sometimes dementia, so a diagnosis of a TBI can be challenging. The brains of elderly people are also more vulnerable to injury, and many older adults are on anticoagulant medications that put them at risk of brain bleeds. If elder abuse or neglect is suspected, mandatory reporting laws must be followed by certain professionals and even ordinary citizens in some states of the United States.
A traumatic brain injury can be associated with depression or another mood disorder, possibly because of the disruption of brain chemicals.
Elizabeth Sandel, MD, a physiatrist and brain injury medicine physician, and Conor Gormally, co-founder of Concussion Alliance — a young man who has experienced several concussions — present a patient-centered care approach for emergency medicine and primary care physicians.
Evaluating and treating people with hormonal deficiencies after traumatic brain injury (TBI) can be very challenging. Learn about the screening and treatment of pituitary deficiencies that may occur in both the acute and chronic stages after a concussion or other TBI.
Children can experience a range of symptoms after concussion. They require individualized treatments and strategies for returning to activities and to school. A physician with training and experience in treating concussions must provide early interventions and follow-up, regardless of how long recovery takes.
Although most children recover fully after a single concussion, others have long-term effects. Of course, prevention is the best strategy, but if a concussion occurs, parents must understand a brain injury has occurred.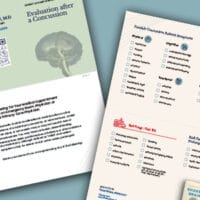 To properly diagnose a concussion and devise a treatment plan requires a thorough physician evaluation, a symptom checklist or an interview, or both, followed by a comprehensive cognitive and physical examination. Download a pocket guide that helps patients prepare for being evaluated.
Child abuse is a top cause of brain injury-related emergency room visits, hospitalizations, and deaths among children of all ages. Diagnosis can be challenging in cases of pediatric abusive head trauma. Prevention strategies at the individual and community level can be effective and there are many available resources.
Stories of opioid-related disability and death are in the news frequently because of a surge in the use of these substances over the past few decades. For people with a history of brain injury, including concussions, the risks of using opioids are higher than for those without this medical history. Learn about the benefits and dangers of these substances, some of which are not only legal but widely prescribed for acute and chronic pain.
What happens to the brain after a severe brain injury that renders a person unconscious or "comatose"? Learn the meaning of other terms that describe patients who have disorders of consciousness: the minimally conscious state, cognitive-motor dissociation, covert consciousness, and unresponsive wakefulness syndrome (vegetative state). Researchers are studying advanced technologies evaluating patients with disorders of consciousness, and there are new U.S. and European guidelines that are helping to standardize care and advance the field of brain injury.
Traumatic brain injuries are very common in older adults who fall. They can result in hospitalization, death, or disability especially in this age group and those on certain medications. In this post, an elderly woman has a delayed hematoma from an injury that could have been deadly. Falls can be prevented and Dr. Sandel shares important information about risk factors and tips for prevention.
I recently talked with journalist Nathaniel Parish Flannery who writes about cycling. He was writing an article about pro cyclist Ian Boswell. Boswell had a crash in 2019 that resulted in long-term concussion symptoms. Flannery found our conversation and my book, Shaken Brain, very helpful, and he tells Boswell's story in…
Get updates on the latest in concussion, brain health, and science-related tools from Dr. Elizabeth Sandel, M.D.
By clicking SIGN UP, you agree to receive emails from Dr. Sandel and agree to our terms of use and privacy policy.